Contact The Catbarber.
Would you like to make an appointment or ask a question?
Please call us at 06 251 20 251, use the whatsapp button or send and email. We will contact you as soon as possible
Email to: info@thecatbarber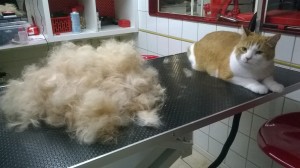 The Catbarber only works by appointment, that way I can take the time for your cat. Because of this I am ,unfortunately, obliged to charge a cancellation fee if an appointment is cancelled within 24 hours of the appointed time. This fee, € 25,00, will be added to the price of the new appointment.