Rates of cat grooming The Catbarber
Clipping (without anaesthetic) € 55,00
Clipping badly matted coats, 1st hour € 55,00, afterwards € 12,50 per 15 min extra
Removing undercoat/detangling* longhaired cat € 50,00
Removing undercoat shorthaired cat with a lot of undercoat (British Shorthair/Exotic Shorthair) € 45,00
Removing undercoat shorthaired cat with less undercoat (European Shorthair) € 40,00
Washing/drying shorthaired or shaved cat € 55,00
Washing/drying longhaired cat € 80,00
Cutting nails as treatment only € 10,00
* Detangling of a longhaired cat is only possible if the tangles are easy to remove and the cat experiences no pain. The cat will be clipped if the coat is badly matted.
Above prices include cutting of the nails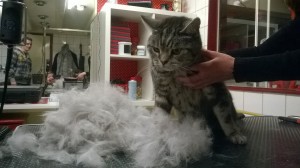 Prices include 21% VAT. Pin is possible
The Catbarber only works by appointment, that way we can take the time for your cat. Because of this we are ,unfortunately, obliged to charge a cancellation fee if an appointment is cancelled within 24 hours of the appointed time. This fee, € 25,00, will be added to the price of the new appointment.
The cat owner needs to be present for the etire grooming session.